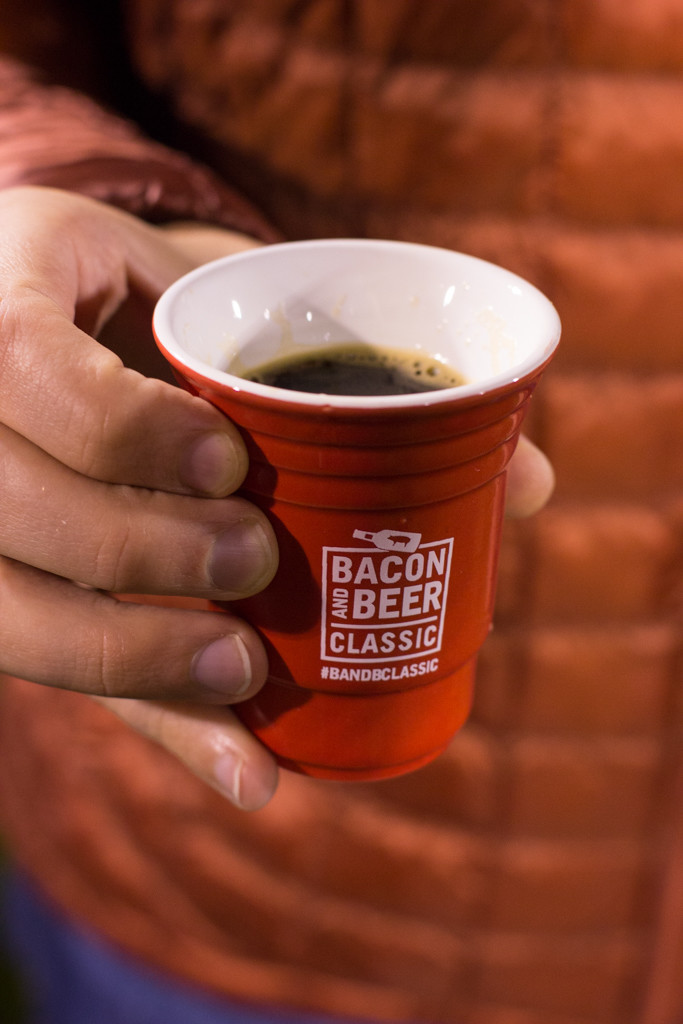 We're no strangers to bacon, but I don't consider us bacon-crazy. The smoky, salty flavor of a good piece definitely has its place. It can balance a sugary stack of pancakes and add flavor to slow cooked beans. So bacon fans, yes, but bacon-crazy, not quite.
For that reason, I hesitated a bit when offered a media pass to The Beer and Bacon Classic in San Jose, Calif. last fall. I'd seen it advertised the year before, and as much as we love craft beer, I wasn't sure that I wanted an evening filled with bacon. But with a generous offer to bring a guest, I thought what the heck and we attended.
The festival was held at the San Jose Giants Municipal Stadium and we attended the evening session. We've attended overly crowded beer fests before so I was skeptical and convincing myself that this was not going to be a pleasant experience.
I was wrong. Completely wrong.
A stadium like this could not have been a better venue. The booths were spread out along the concession area and throughout the field with plenty of room for roaming around. No shoulder to shoulder pushing and shoving and the lines for beer and food were minimal.
What I wasn't expecting was the adult playground aspect of the event. I mean they had a blow up armadillo for crying out loud. There were field games and jump-jump set ups to appeal to our drunken inner child. To be honest, it was a blast. And we didn't even venture into the jump-jump slide.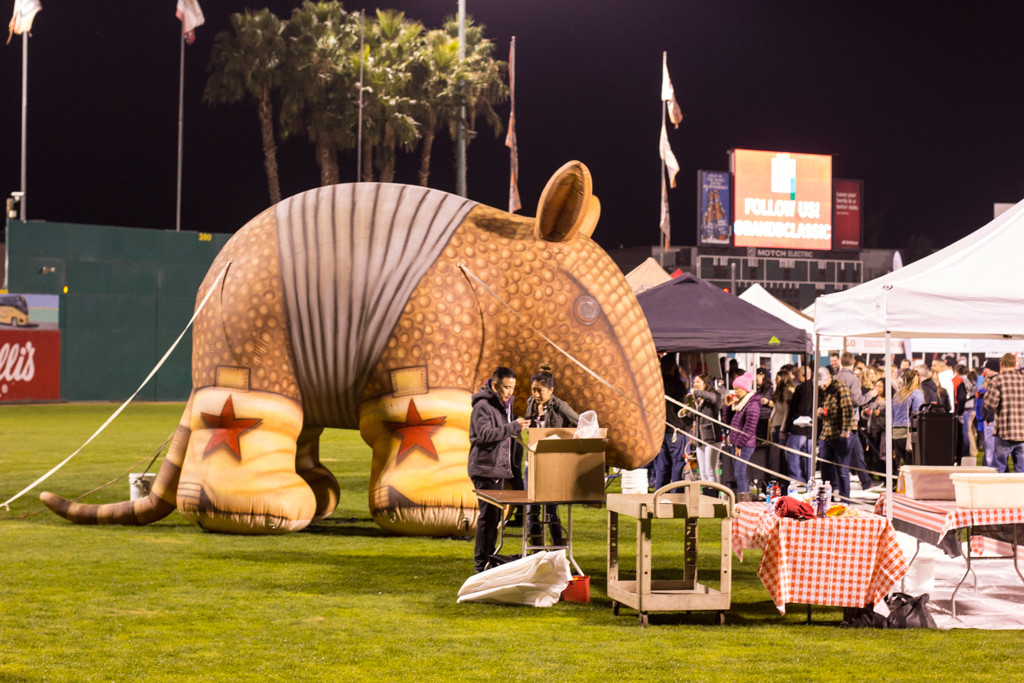 First, let's talk about the bacon. Then we'll get to the beer.
I know what you are thinking. All of the food booths were filled with this.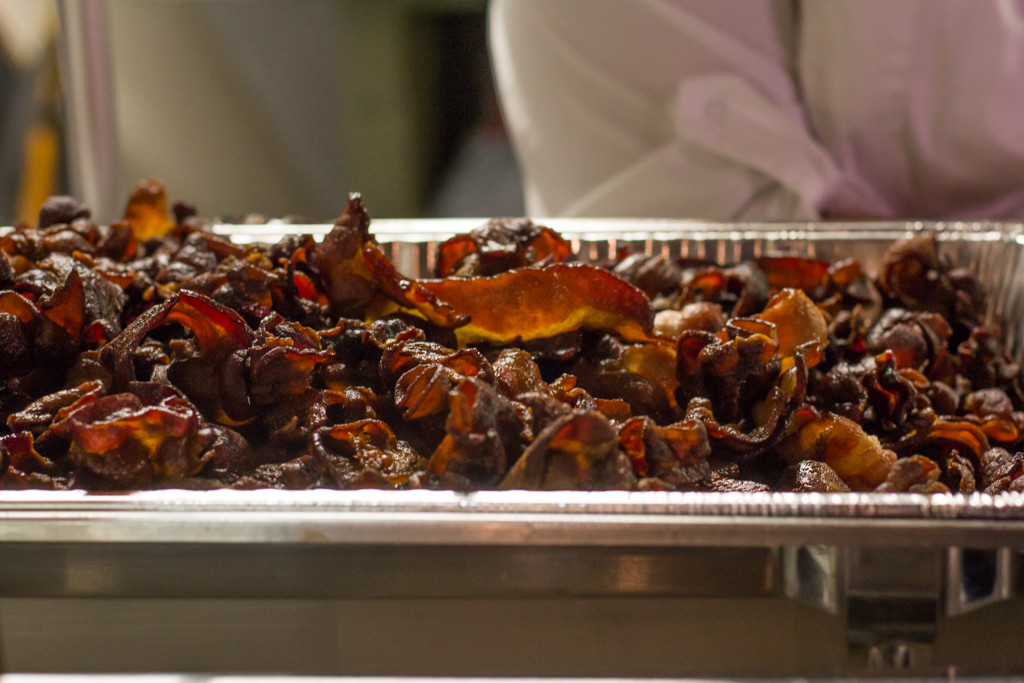 You'd be partially correct. Many were. And it was some creative bacon. The 3 Pepper Apple Whiskey Candied Bacon was my favorite. But one can only eat so many handfuls of straight-up bacon before you start to apologize to your arteries and vow to mix it up a bit.
Aside from piles of bacon were some very tasty bacon-inspired creations. Bacon shrimp and grits, bacon sausage with German braised red cabbage and the bacon wrapped scallops shown on the grill here all topped our list.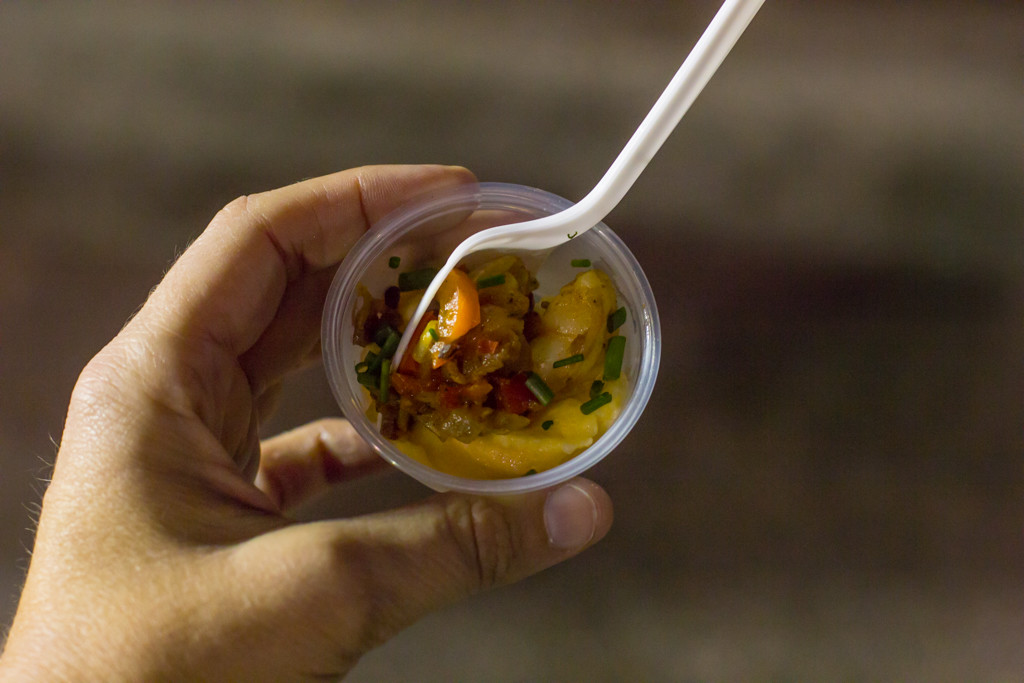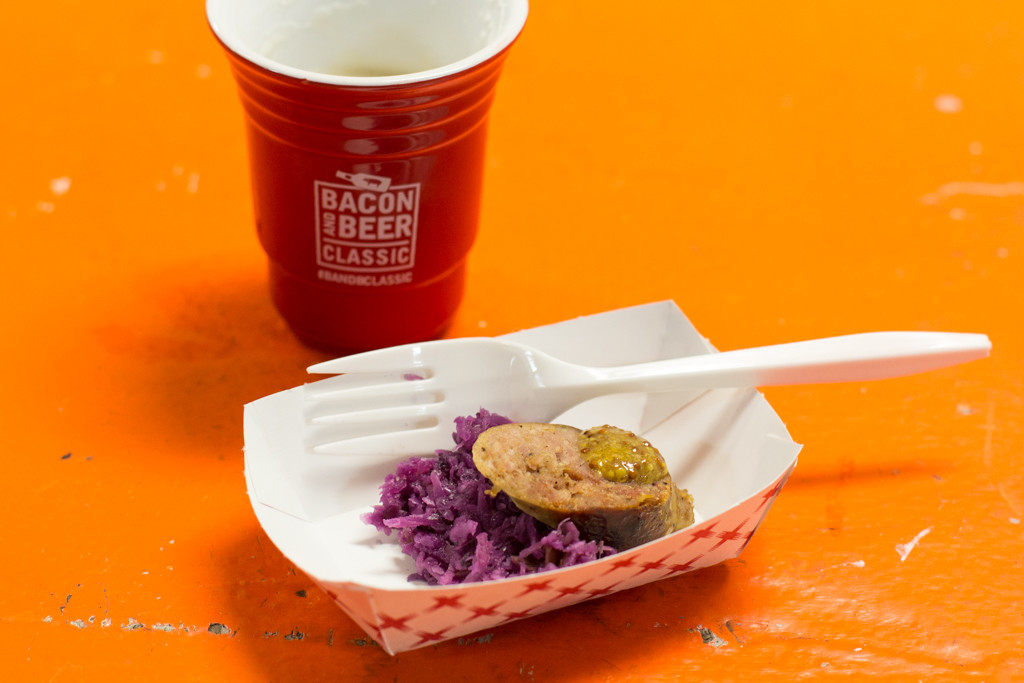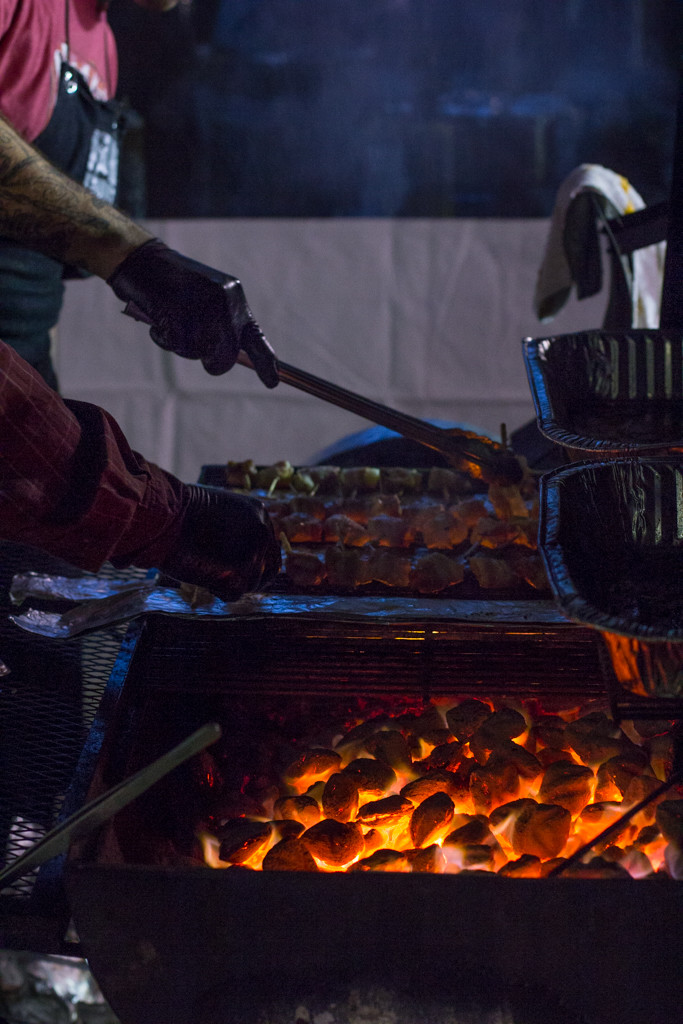 Then there were bacon infused sweets like donuts, cheesecake, popcorn and cookies. Excellent with the stouts and porters available.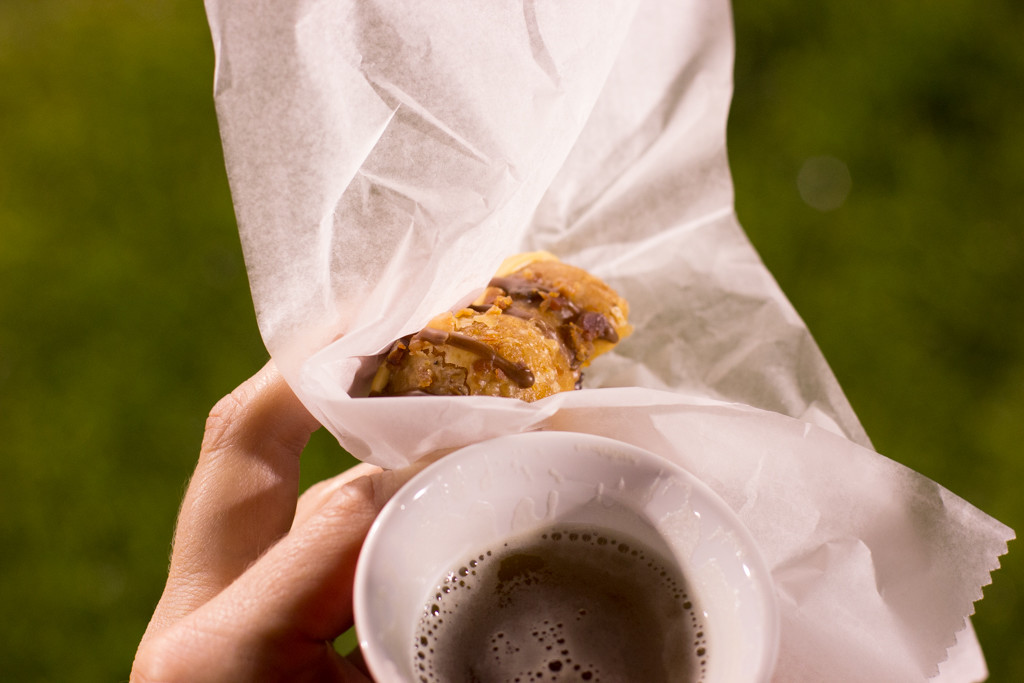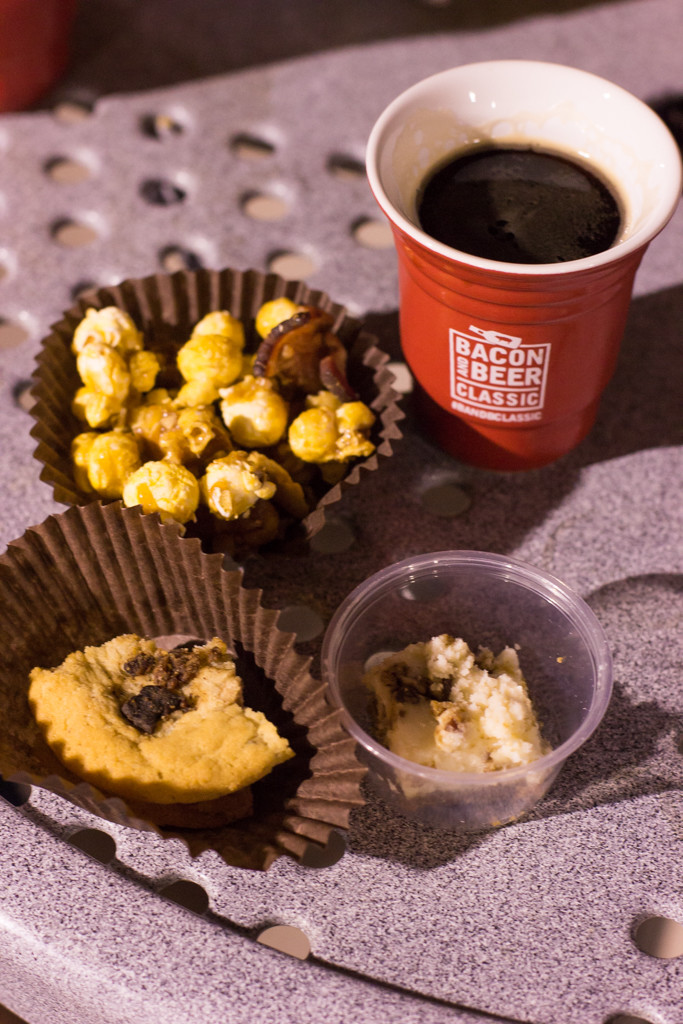 And who can pass up a churro and a beer. Impossible.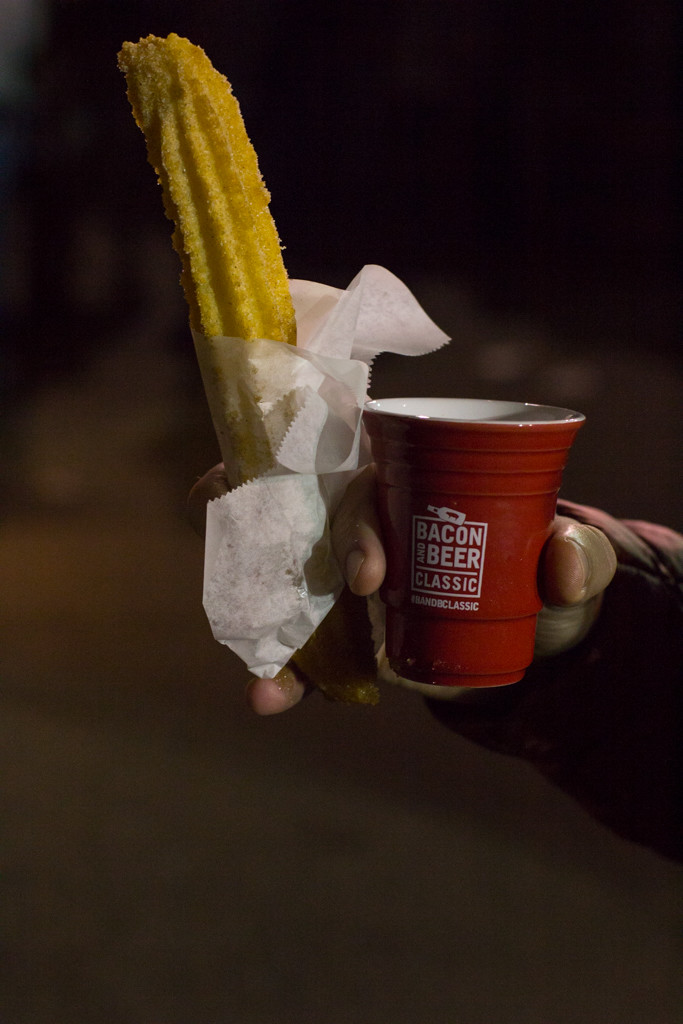 Now let's talk about the beer. We are huge craft beer fans, but not craft beer festival fans, especially the larger events. Typically there are long lines and you spend more time waiting in them than tasting the brews.
Not so with this event. I would go again even if I didn't want any bacon.
Another great aspect of this festival – the small tasting glass.
So many times we go to fests that give you a pint glass for tastings and the servers are supposed to give you a 2 oz. pour. That rarely happens. Then you feel guilty for pouring it out, and if you drink it, you risk getting drunk. The point of a beer fest is to taste. These small glasses restricted how much could be given in a serving.
We were pleasantly surprised with the selection. Larger craft brewers were there, like New Belgium and Lagunitas, but so were smaller operations with unique drinks like the San Francisco Mead Company. Green Flash, Evil Twin, Alpine, Kona, Knee Deep, High Water, Ballast Point, Anchor. Yep, all there.
The next Beer and Bacon Classic in the Bay Area will be February 27th and they are moving the event to Levi Stadium in Santa Clara. If I've convinced you to check it out, a few tips if you go during the evening session:
Get there as soon as they open the session. Beers did run out towards the end of the evening.
Take a loop and then grab your top pick. While most of the lines were short, some did grow longer as people arrived. The line for Not Your Father's Root Beer is a good example.
Don't fill up on only bacon. They will give it out by the handfuls. Pace yourself. There are so many tasty bacon-infused foods to try.
Save the porters and stouts to have with your dessert. We had some great self-created pairings.
Disclosure:  We received media passes to attend this event. We were not required to write about it and received no compensation for doing so.