It took us several trips to the island to get there, but we eventually found our way to Port Antonio, Jamaica. This is our recap of travel tips for visiting this beautiful location.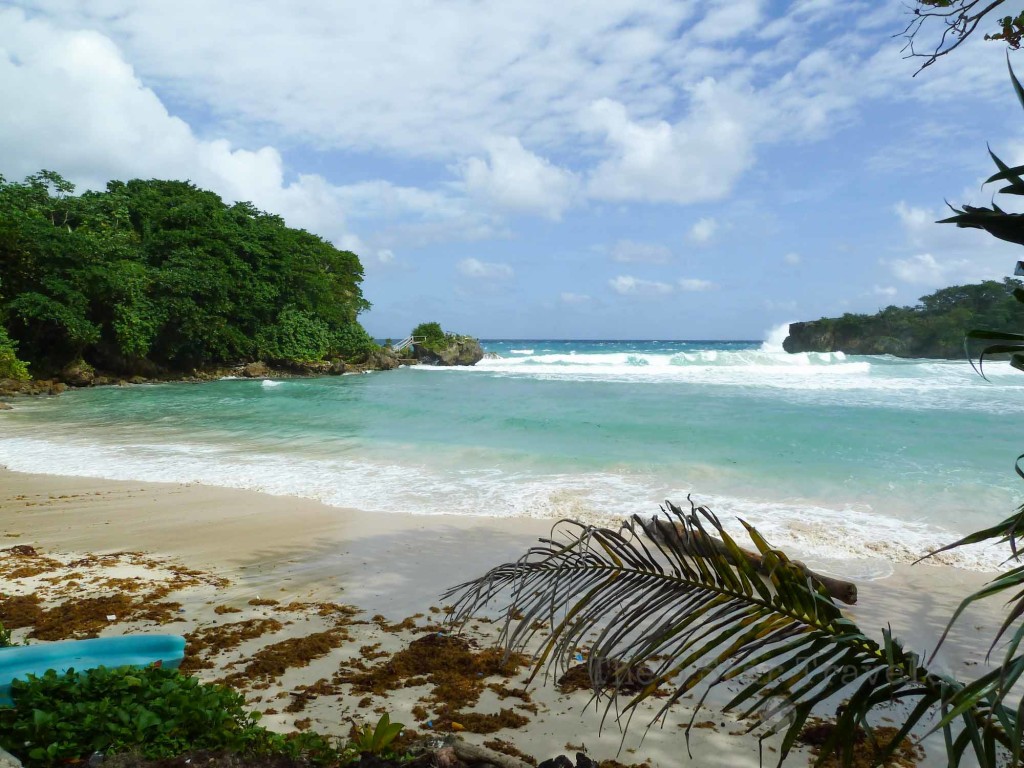 We took our driver's heckling in stride. "But, you're not the typical tourist," he said on several occasions throughout the day with a laugh. It was said often when we passed an attraction that the majority of visitors would have flocked to.
Six trips to Jamaica and not one had taken us to Port Antonio. That is, until this past December. I searched high and low for a private driver to get us there from Ocho Rios. Our original desire was to visit Twyman's Old Tavern Coffee Estate in the Blue Mountains, but with a road damaged from the last hurricane I could not find a driver in our price range that also had the appropriate vehicle to navigate the terrain.
We settled on a day sightseeing in Port Antonio. After several drivers offered a day full of raft rental, swimming and extra entrance fees upwards of 150 USD, I finally found Paul. He gladly took us where we wanted to go, but that wasn't without a comment here and there indicating that he didn't quite understand why these were our choices.
Since I first discovered Port Antonio through websites and blog posts, I wanted to see if it would keep the promises made about its beauty; its uniqueness among other cities of Jamaica. When experiencing the Parrish of Portland first hand, I wanted to watch, to see, and to eat; not ride, splash, and spend the time with hoards of other visitors.
I don't know exactly what I was expecting as we set off on the two hour drive from Ocho Rios. We'd taken a similar driving tour of Antigua a few years before, but the experiences were not at all similar. It was another reminder that while the area is referred to as "the Caribbean," each island has its own identity; its own vibrant personality.
The road to Port Antonio wraps along the north coastline of the island. Regardless of your destination, a short drive along the route is well worth a few hours of your day.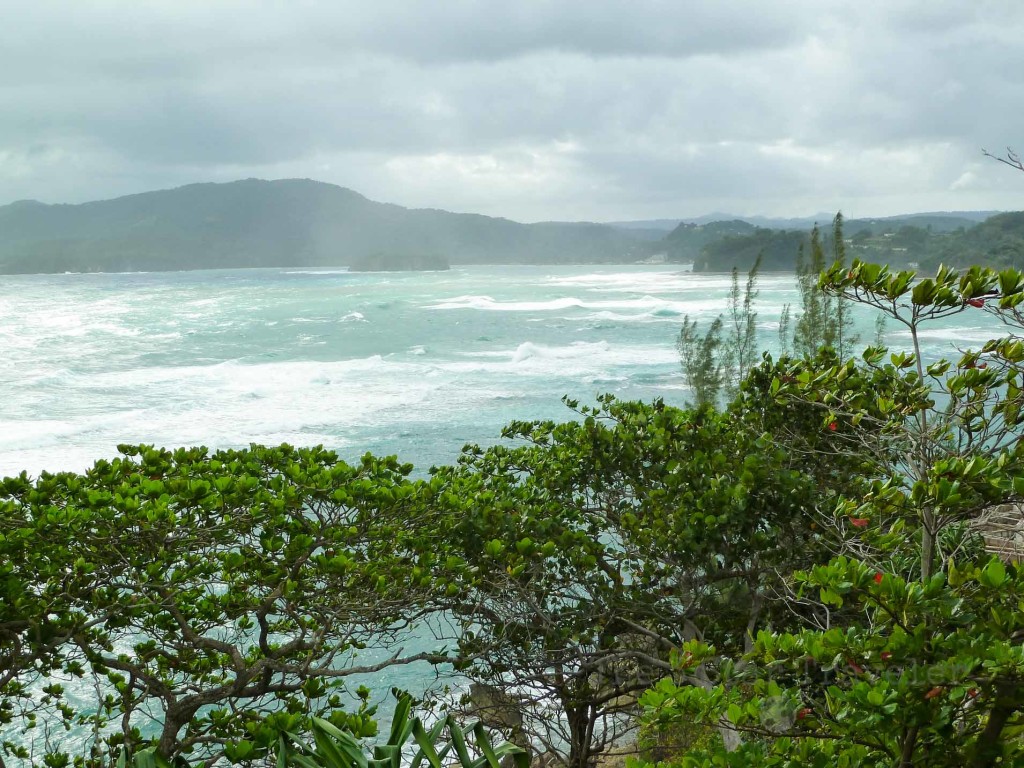 Once we arrived in the city, we realized our guide did have a few things in mind for us. This was a relief because while I had great intentions for researching exactly where we wanted to go, a busy work schedule prior to our trip never allowed those intentions to become actions.
With a camera in hand, the day can be summed up as: shoot, sit, reflect, marvel and eat. The attractions we visited are not unlike those others would flock to, but we did them on our own schedule, taking plenty of time to absorb all that was around us.
And all that was around us was both good and mediocre.  There are parts of Port Antonio that I would return to in a heartbeat, others I would skip in search of other interesting areas of the island.
Errol Flynn Marina
When we arrived at the marina, it was my first realization that we were out of resort territory. The marina website boasts that this is the 'other side of Jamaica,' and I wholeheartedly agree. Being where tourism is said to have begun on the island, of course there are accommodations, but mega resorts there are not. The area also began to show signs of the independent traveler; the backpacker interested in taking on a culture alone, or perhaps with a few new friends met at the hostel.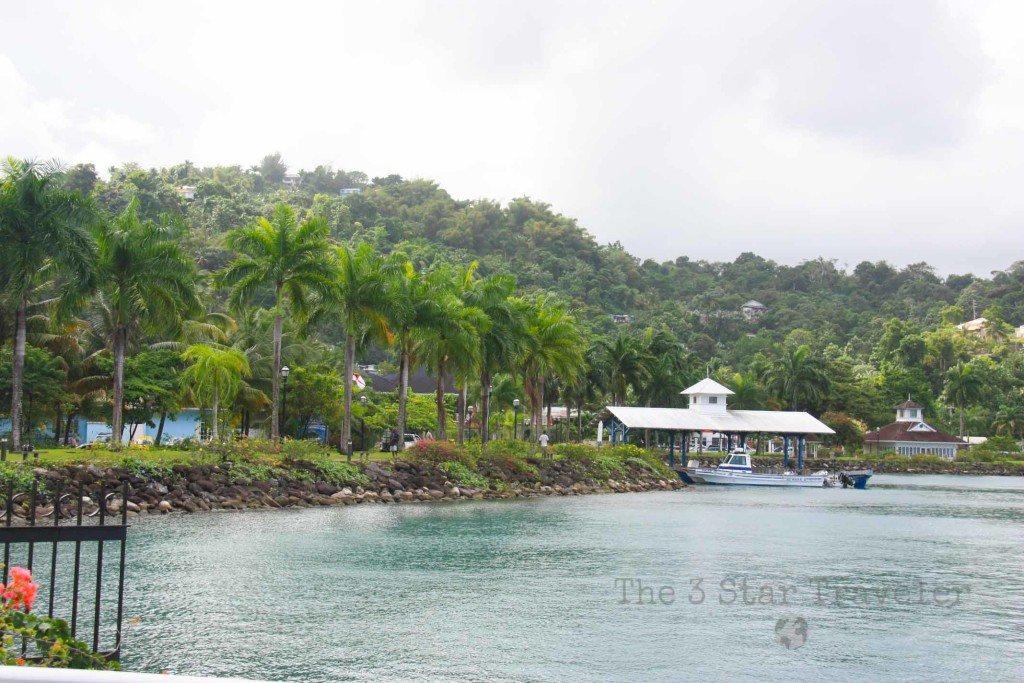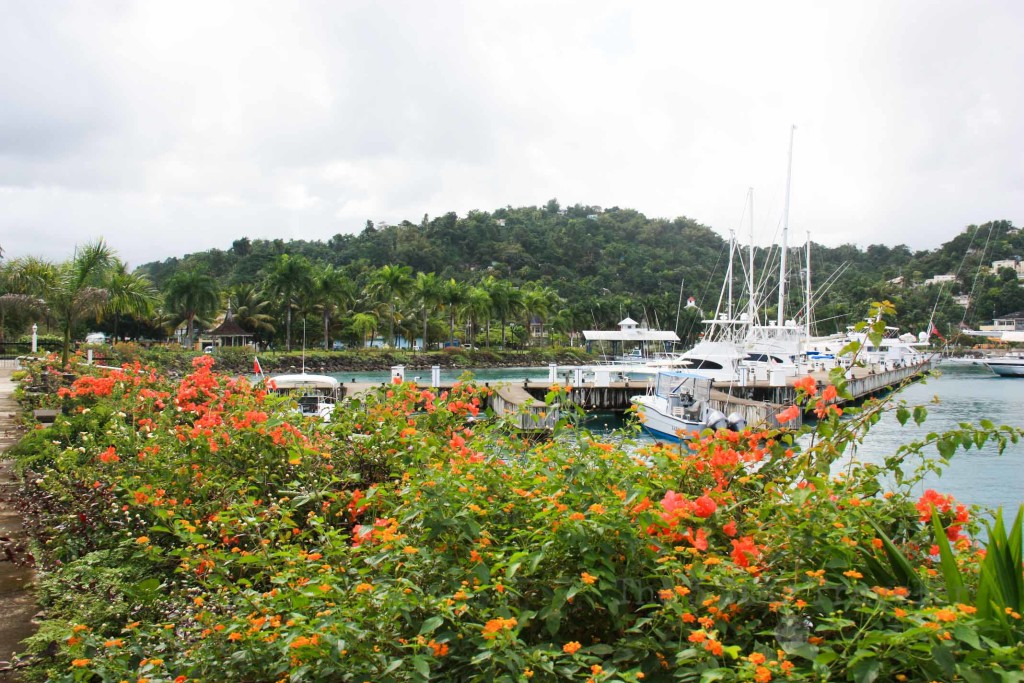 While the skyline and sail boats made for a few beautiful photos, the Marina left a lot to be desired. Even with the accompanied historic brochure which usually sparks my interest, we walked, shot a few photos, and were ready to leave.
Frenchman's Cove
After paying a 6 USD fee per person, we entered the gate to Frenchman's Cove and were instructed that while we could go to the beach we could not explore the rental cottages on the property.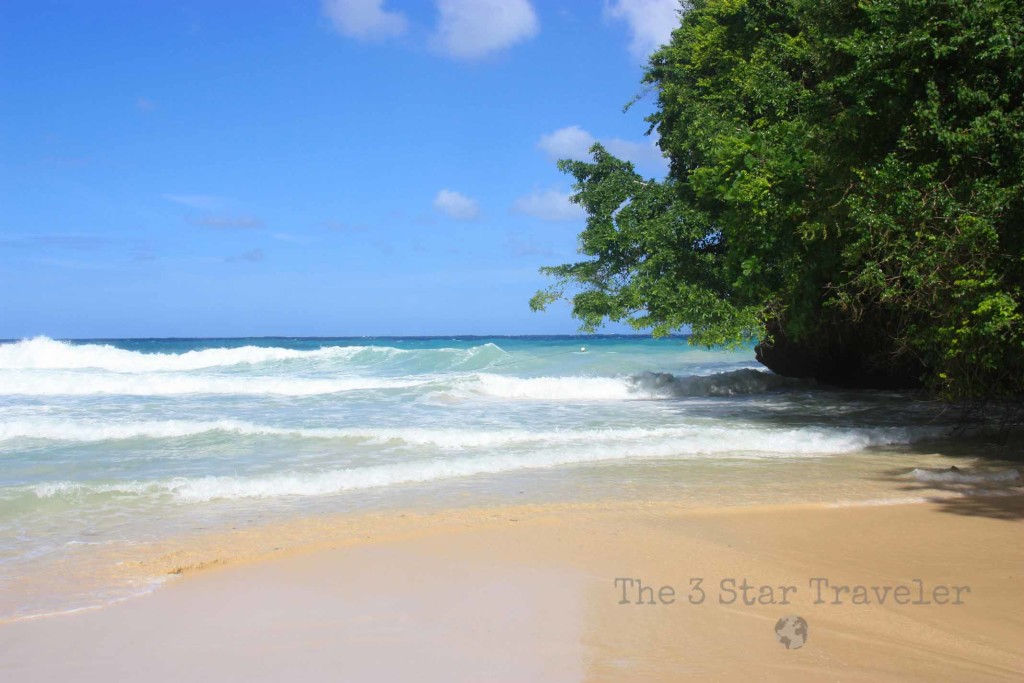 Frenchman's Cove is like a peek-a-boo of beauty. This is where you will want to spend an hour or two sitting so take your sunscreen, your book and some spare change for a Red Stripe. The small beach looks out over waves that seemed angry the day we visited. A small break in the landscape allows a full view out to sea. We arrived mid-morning and only a handful of people were around making for a peaceful reading spot.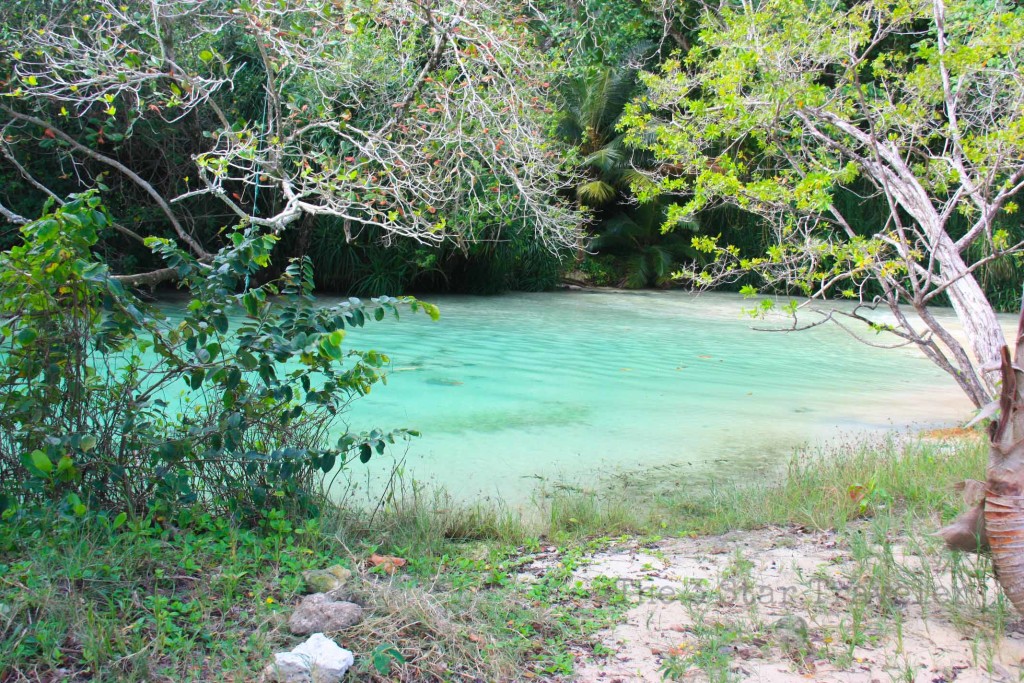 Chairs are free, benches can be rented and a bar will serve you your favorite Caribbean cocktail. In our case, this was a Red Stripe Bold.
Boston Bay
Between half-finished houses and smoking jerk stands, Boston Bay appears out of nowhere. Another sneak peek at the ocean, surf stands dot the coast line, and a soccer field for pick-up games with the best view on the island can be seen in the distance.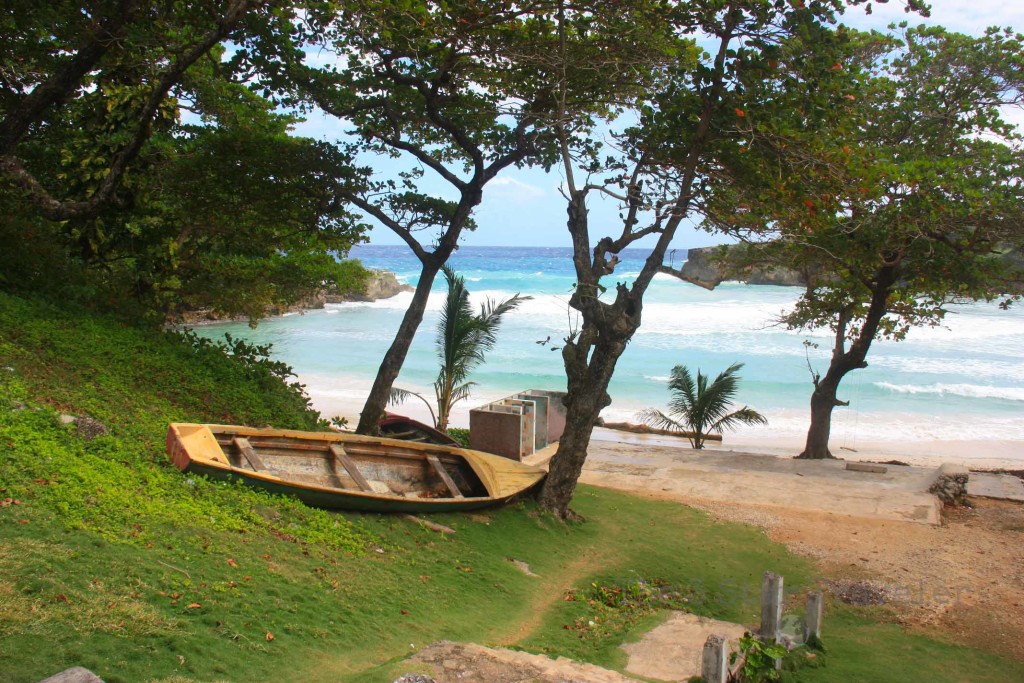 There isn't much to do here, unless you surf, I suppose. But no one dared to tackle the waters during our visit. The beach does, however, provide the backdrop for some stunning photos.
Boston Bay Jerk Center
Jerk is what we had waited for. Real jerk; the kind with spicy heat smoked into the bone. I guess I should have heeded the warnings about the Boston Bay Jerk Center. I had read several times that while good, it wasn't anything spectacular. We arrived and grabbed a bench as a group of backpackers were settling their bill. We were immediately rushed by several salesmen – meat, drinks, sides, and finally jewelry for dessert.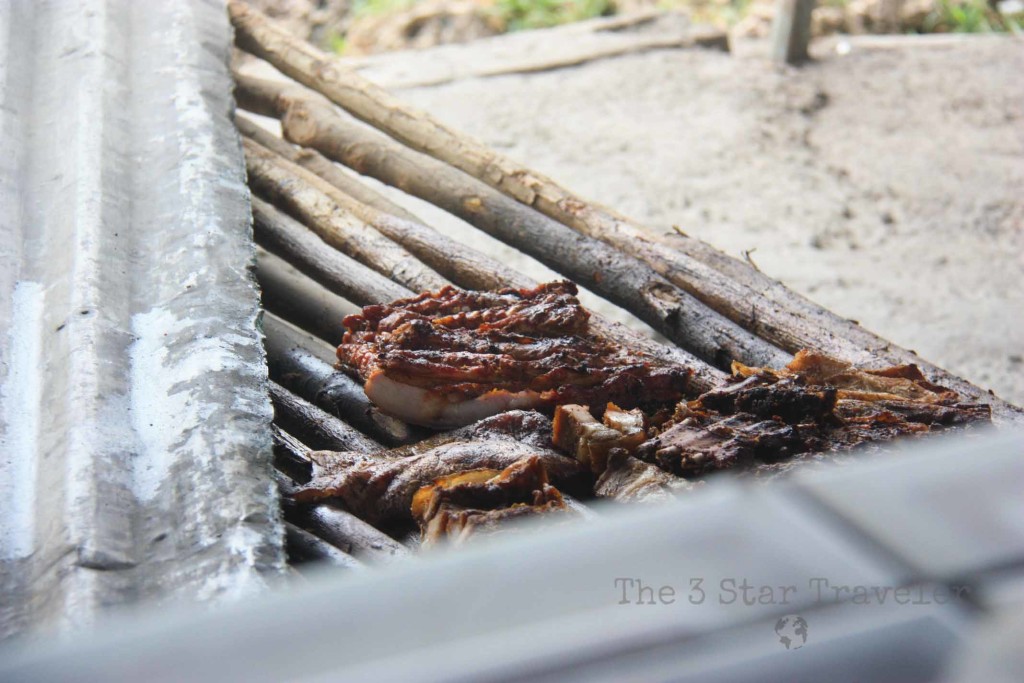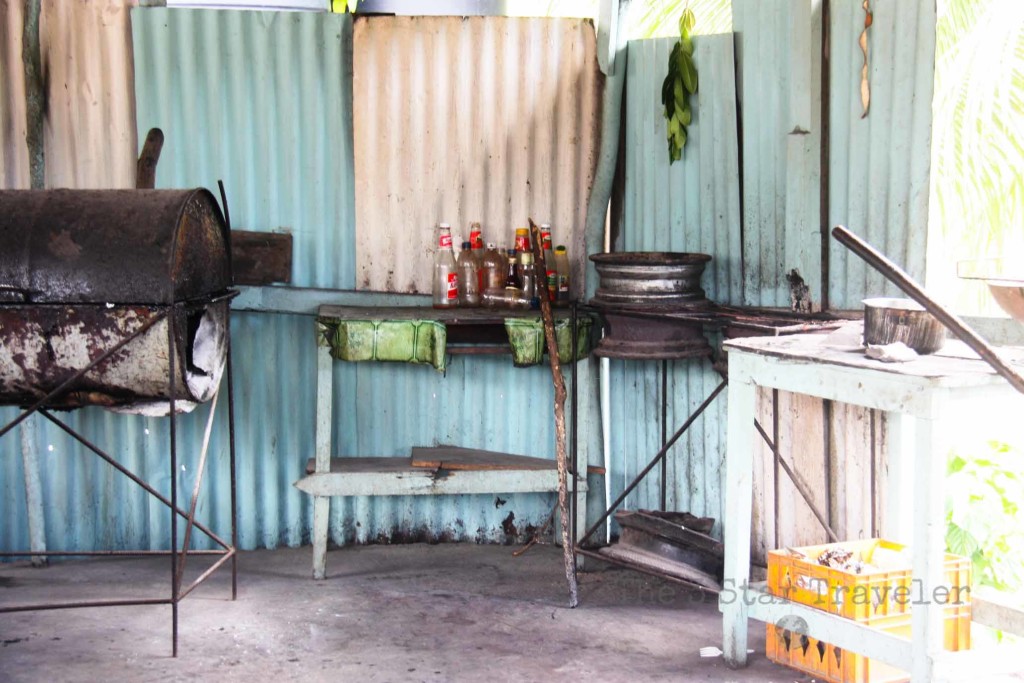 A bit confused on how the process would work with our driver, we did not take full advantage of his advice. He had suggested that we settle the price before ordering, but distracted by all that was around us, we felt pressured to quickly make our selection. I thought I was getting better at the whole bartering thing, but I took two steps back on this trip.
The negative tone of the experience isn't to say we didn't enjoy the food or the variety. The highlight was the opportunity to try roasted breadfruit. One bite and you will know exactly why it got its name. It is most definitely a fruit that has the texture of bread. And despite the simplicity of the roasted yam, it remains a favorite from the meal.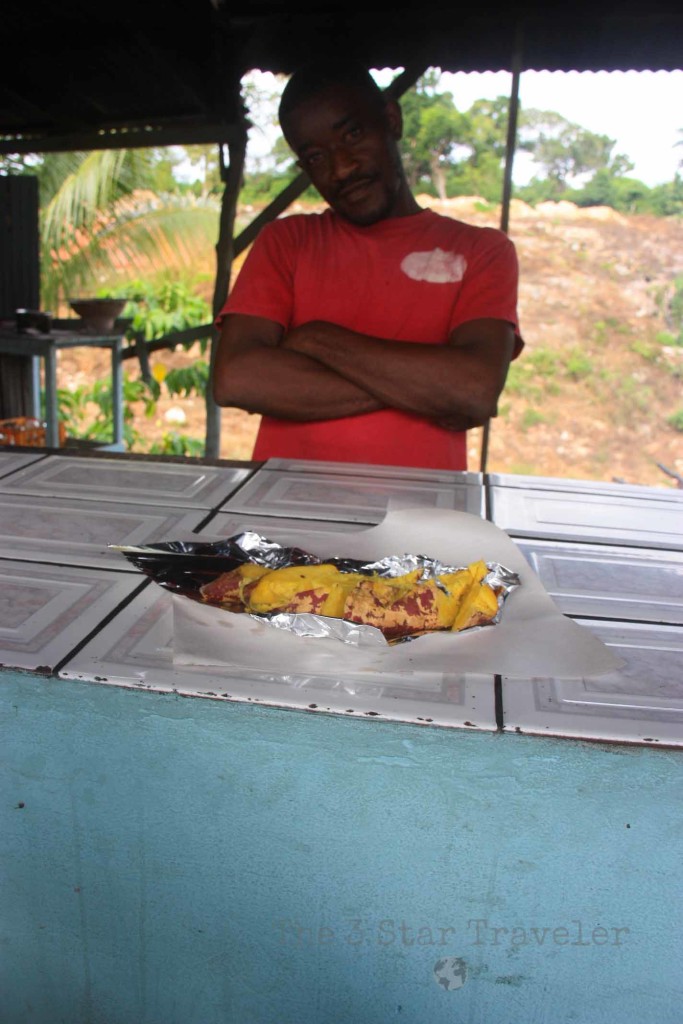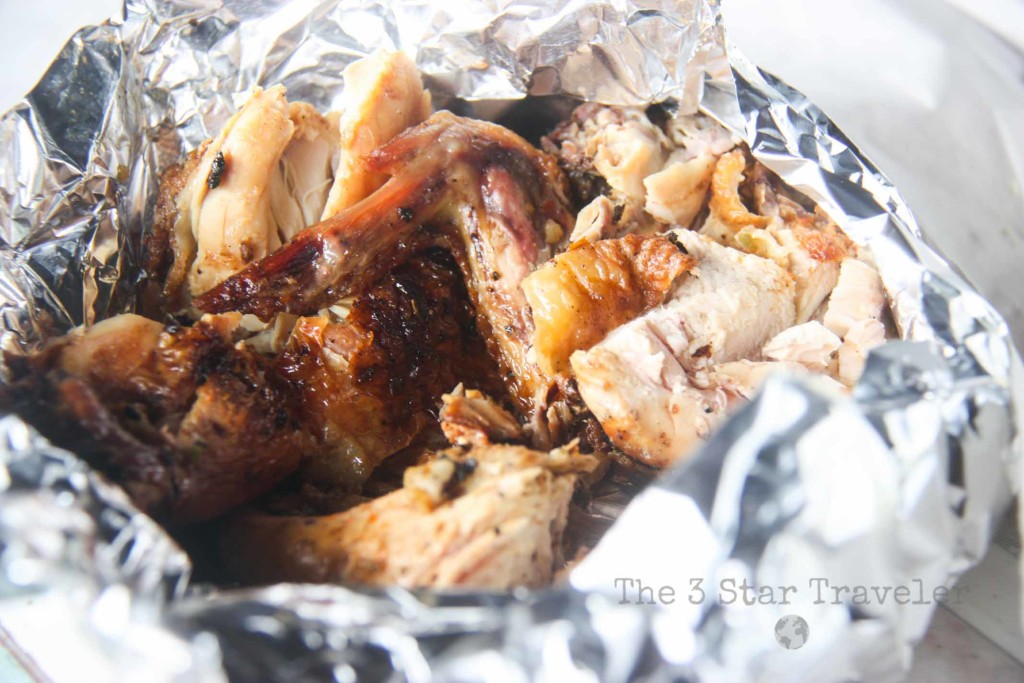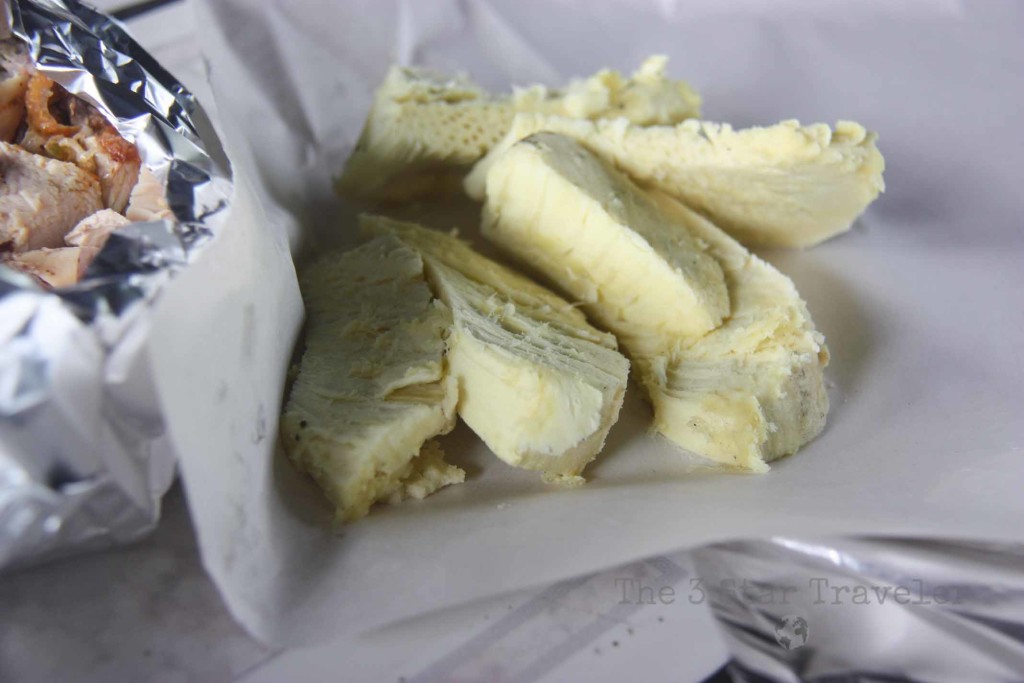 We wouldn't venture back to the Boston Bay Jerk Center. To us, while the people were friendly – which has always been the case for us in Jamaica –  it was a tourist trap that was disguised as an authentic experience. Thirty-seven US dollars got us two Red Stripes, 2 orders of jerk chicken, a roasted yam, and a roasted breadfruit. We've had the pleasure of enjoying better jerk chicken elsewhere on the island so I'd suggest that you keep exploring.
Blue Lagoon
At first I wondered why we were creeping down an alley scattered with a few local craft vendors. "It's just over there," our driver said. I looked up and dark turquoise water filled every frame of my view. We didn't take a raft ride and we didn't jump in, but the Blue Lagoon filled our senses.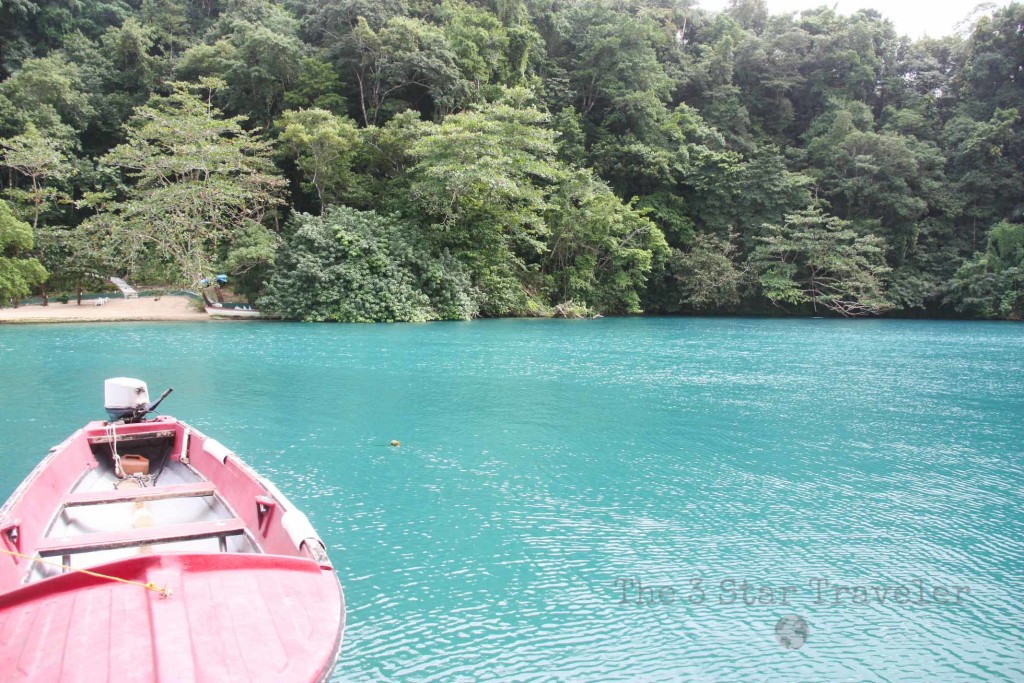 We stood for a while, as there isn't much of a place to sit, took some photos, and watched a few daring souls take their raft out to the tree swing, and splash into water that was so deep blue-green in color that it almost looked unnatural. I had no desire to join them, but in all fairness they looked like they were having fun. If we had a desire to swim or take a raft ride on our trip, this would be the place to do it.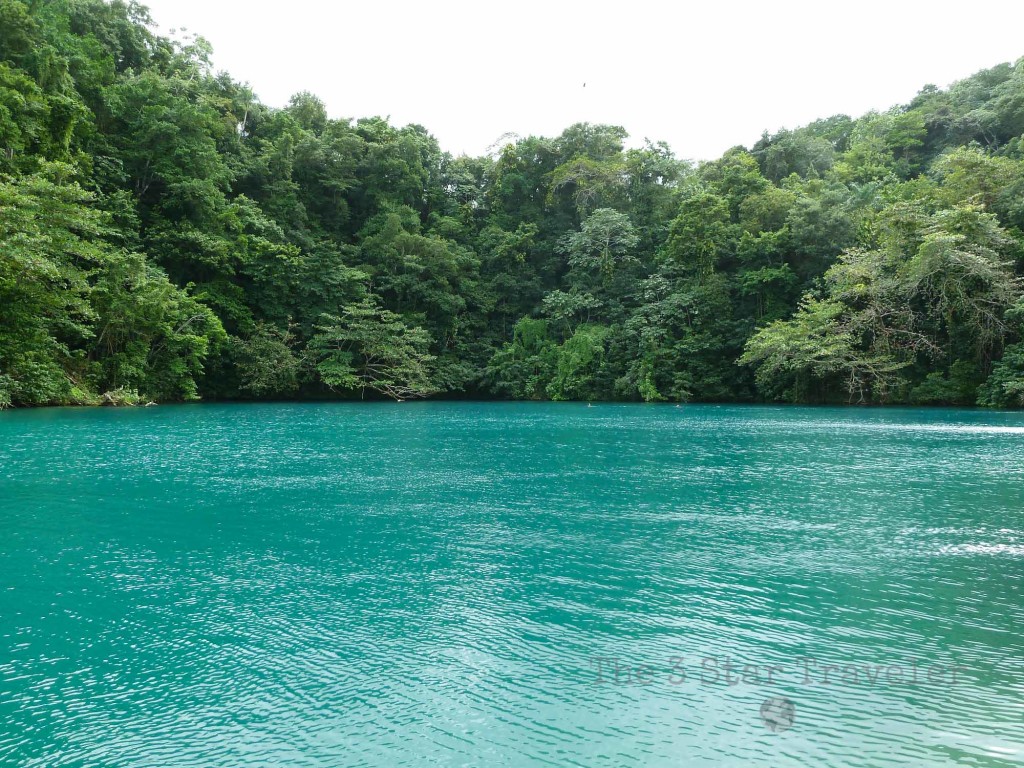 Twyman's Coffee
As mentioned, our original intent was to visit Old Tavern Coffee Estate. This coffee is considered the cream of the crop when it comes to 100% Blue Mountain coffee. We learned of it from a Jamaican friend living in the States. It is the only single-estate Blue Mountain coffee. The price reflects this, but we prepare for such indulgences.
After inquiring about finding the coffee at a local market, Paul offered to take us to downtown Ocho Rios. This was the only place we fit in on the entire island – tourist central. But the visit was worth every effort the moment I saw a bag of Twyman's coffee on the shelf. It was a day of ups and downs that ultimately ended well.